Holiday Cottage Saaremaa Mässa, Torgu, Saaremaa, Estonia
Rent a Holiday Cottage in Estonia!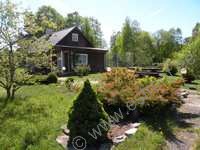 A wonderful Holiday Cottage in Saaremaa, Estonia, for max. 7 persons!
This beautiful and well-maintained group of cabins include a two-storey living quarters, a separate kitchen cabin, sauna and outdoor kitchen.
Living quarters consist of two bedrooms (altogether beds for 6 persons), a small kitchen corner, living room with fireplace, WC.
The kitchen cabin has a fully equipped kitchen and a dining ares. The cabin has its own terrace. Next to the kitchen cabin is a covered outdoor kitchen with possibility of sitting and barbequing. There is an additional bed for 1 person in the loft.
There sis also a separate sauna cabin with shower and a rest room. The sauna cabin also has its own terrace. Next to the sauna is a small pond.
The group of cabins surrounded by a fence is located in a quiet and peaceful spot away from the main road and is suitable for families with children.
There is a good asphalt road from Kuressaare to the cabin. Some of the most popular beaches in Saaremaa are along the same road in Mändjala and Järve....