Holiday Cottage Kõera, Hanila, Läänemaa, Estonia
Rent a Holiday Cottage in Estonia!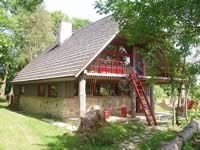 A holiday cottage for max. 8 persons in Läänemaa on the southern edge of Matsalu national park.
The cottage consists of two floors. On the ground floor there is a SAUNA, shower room, WC, small living room with a fireplace and kitchen.
From the living room there are open steps to the first floor with a spacious living (bed-) room, 2 separate bedrooms. There are also lofts for sleeping (6 places, mattresses).
Access to terrace from the living room.
Own WC on the first floor.
The price includes 3+5 beds. Possibility of additional beds.
Possibility of barbequing. Garden furniture, a small summer kitchen and a summer cottage (couch/bed for 2). Possibility to rent bicycles (4).
Parking in the yard of the house.
The owner lives occasionally in the other cottage on the grounds. The cottages have separate yards. Other neighbours are not close by.
The sea shore is 1 km away. Sandy beaches are ca. 5 kms away. Local traffic on unpaved roads.
The environment offers various possibilities for nature lovers – birdwatching, plants. Additional information about the nature park on the home page of Matsalu National Park http://www.matsalu.ee....