Holiday Cottage Pärsama I, Leisi, Saaremaa, Estonia
Rent a Holiday Cottage in Estonia!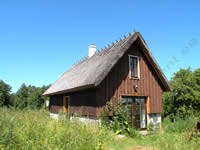 A small, comfortable and private Holiday Cottage for max. 4 persons in a very beautiful part of Saaremaa – in Pärsama, Leisi municipality, Saaremaa. Nearby are beautiful beaches, Triigi harbour, Angla windmills.
The history of the cottage goes back to the year 1888, and it was originally used as a storehouse. When restoring it as a Holiday Cottage it was considered essential to keep the old-fashioned ambiance. In decoration and interior design modern elemets and comforts have been added.
On the ground floor there is a living room, open kitchen, shower room+WC. On the first floor of the cottage there are 2 bedrooms with altogether 4 beds (2 beds incl. in the price, 2 for additional fee, children 0-6 years free).
TV. Garden furniture.
The surroundings and the yard of the cottage have been attempted to keep as close to nature and real as possible: the roomy grounds are naturally wild and romantic: high grass and juniper trees surround the house, a small creek can be found within a short walk in the woods. The main building is 100 m away. ...