Holiday Cottage (sea 30 m!) Hõbesalu I, Varbla, Pärnumaa , Estonia
Rent a Holiday Cottage in Estonia!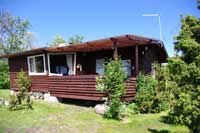 A Holiday Cottage 30 from the seashore!
Holiday cottage for up to 6 (max. 4 adults) people in Pärnu County, Hõbesalu.
The holiday cottage has a living room with an open kitchen, a communicating bedroom and a bathroom. Terrace and living room window offer a view of the sea.
TV. Possibility to barbeque. Boat rental.
Guests can also use the sauna (in a separate house).
There are beds for 2 + 4 people in the house: a large double bed and 2 sofa beds.
Cars can be parked next to the house.
A good location for a nice summer holiday: possibility to enjoy the sea and the sun from the terrace of the cottage or to make short excursions into different parts of Estonia. Pärnu is 45 min drive away, Virtsu with ferry access to Saaremaa is only 20 min drive away. Driving to Haapsalu takes 50 min. 9 kms from Haapsalu is Rohuküla harbour (ferry connection to Hiiumaa).
The area offers wonderful opportunities for birdwatchers both on the spot as well as in the nature park in Matsalu which is one of the most important places in Europe for nesting and migration of water birds.
The holiday cottage next to us can also be rented:
See object no. 380 ...