Holiday Cottage Mustjala, Mustjala, Saaremaa, Estonia
Rent a Holiday Cottage in Estonia!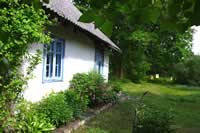 A small cottage with a touch of history and art up to 5 people in the northwest part of Saaremaa in Mustjala village. 5 km from the sea, 10 km from sand beaches. Kuressaare 30 km away. Triigi port is located within the distance of a small car drive and it is good to arrange a daily tour to Hiiumaa from there.
A kitchen corner, open living chamber and sleeping chamber have now been constructed to the sauna-washing cottage of this time church that was built in 1890. As much historical as possible has tried to be kept in furnishing. However, some contemporary elements have still been added: possibilities for simple cooking, WC with a specific design solution (besides it is possible to use the main house's WC if one would like to).
The landlord and the landlady are interested in art which is why their hobbies have found their way in designing the living space.
There are 5 bed places: a wide double bed in the sleeping room and 3 single beds in the living room. If one is not afraid of narrower conditions, then it is possible to set up 1 extra place (a camp bed, included in the price) to the living room. The sauna with warm water, shower room and corner for resting that belong to the cottage is located directly in the neighbouring house. The sauna is wood-heated.
Barbecue possibility. Possible to order massage (agreement on site, for extra fee).
Pets allowed (supervision recommended, as the territory is not bordered by a fence; the neighbouring plot has beehives, see on picture 1).
Parking next to the cottage on calm traffic area.
The family owning the place has a small cafe-art gallery, where the works of Estonian artists and handicraft masters are exhibited and sold. Possibility to use WiFi in the cafe. ...