Holiday Cottage Jõiste, Leisi, Saaremaa, Estonia
Rent a Holiday Cottage in Estonia!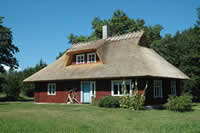 A Holiday Cottage for up to 6 people in the northern coast of Saaremaa, approximately 1.5 km away from the beach. The area is quiet and tranquil. The more privately located Holiday Cottage is situated at the edge of a glade, slightly away from the road. Neighbouring houses are approximately 200–300 m away. The beach is approximately 1.5 km away. The built-out beach has a sand-stone-lawn shore, but the sea bottom is sandy. There are excellent less busy paved roads in the area. The nearest food store is 10 km away. A good way to organise a day-trip to Hiiumaa – Triigi Port is just 10 km away. Kuressaare is 50 km away.

The spacious cottage has two floors. The first floor has a large dining room, a kitchenette, 2 bedrooms, a bathroom + WC. A larger open bedroom is located in the loft of the second floor.
There are a total of 6 bed places: 2 single beds in the first floor bedrooms, couch/bed in the living room, 2 single beds and a double bed up in the loft.
Garden furniture. BBQ option.
Pets allowed.
Parking in the yard. ...