Holiday cottage Mõraste I, Märjamaa, Raplamaa, Estonia
Rent a Holiday Cottage in Estonia!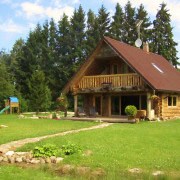 A vocation home up to 10 people in Mõraste, Rapla County, by the beautiful Kasari River. Mõraste is located between Tallinn and Pärnu and provides a good possibility to organise daily trips to different parts of Estonia: Tallinn, Pärnu, Haapsalu, Osel, Hiiumaa Island, etc.
The vocation home is located in a little vocation village.
The ground floor of the cottage has a spacious living room with a fireplace, a shower room +WC. A large balcony.
The first floor has two bedrooms. Access to the balcony from both bedrooms.
TV. Internet for the user with their own computer. A washing machine.
About 50 m from the house, there is a barbecue cottage and a barrel sauna with a view to the river. If anyone likes, they could try steaming in a transparency sauna, which is becoming increasingly popular. There is a volleyball court, a chute for children and a lot of space for leisure activities close to the house. It is possible to use a cask-style bath. Mushroom and berry forests close by.
Parking next to the cottage (for free). ...