Holiday Cottages in Pärnu
Rent a Holiday Cottage in Pärnu!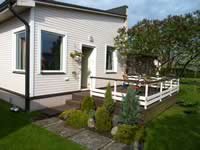 A cosy courtyard cottage for up to 6 people in the City of Pärnu, located in the coastal district. The sea and the sandy beach is 800 m away. Many recreational opportunities are within a short walking distance: SPA, pubs, restaurants, nightclubs, shops, the beach, children's playgrounds, etc.
The cottage has 2 bedrooms, a lounge room, a living room, a kitchen, a shower room + WC.
From the lounge room you have access to the terrace, furnished with garden furniture.
The cottage has a total of 4+2 bed places: a double bed and 2 single beds in the bedrooms, a sofa bed in the lounge room.
TV. Internet (WiFi) for personal computer use. Washing machine.
The cottage has a beautiful maintained closed garden. Garden furniture in the garden. BBQ option.
Parking in the closed yard (for 2 cars) or on the street (for free).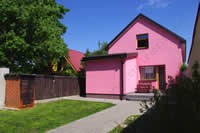 BEACH AREA HOUSE!
BEACH – 500 m!
A cottage for up to 8 people in the beach area of Pärnu within a 8–10 minute walking distance from the beach. The water centre is 500 metres away. Cafés, restaurants, market and event places also within a walking distance.
The ground floor of the cottage is comprised of a living room, a kitchen, a bedroom, a toilet, and a shower room. The second floor includes 3 bedrooms, a bathroom with a toilet. The cottage is enclosed by a fence. A grilling corner and garden furniture are outside.
There are a total of 6+2 bed places in the house: 2 double beds, 2 single beds, sofa bed.
TV. Wi-Fi. Washing machine. BBQ option.
Up to 2 pets are allowed (NB! Supervision of pets is required at all times!)
Parking in an enclosed courtyard (3 parking spaces).
House for 8 people in Pärnu city. This is a quiet and private area in Old-Pärnu. The central of the city is located 3km away. Sandy beach and swimming area only 1km. You can get to the main sandy beach with 4km walk. This cottage has 2 floors. On the first floor you can find kitchen, livingroom + diningroom, bedroom, WC and showers. Second floor – kitchen, livingroom and 2 bedrooms, showers + WC. Theres 4+4 beds: 2 doublebeds, sofa bed and 2 extrabeds (camp beds) for you to use if you would like so. 2 TV-s, washing machine. Outside theres a big terrace, garden furniture and bbq. Also theres a closed fence around the garden. Parking Lot is in front of the house.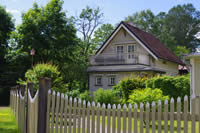 BEACH DISTRICT ! BEACH – 400m This small cozy villa with an excellent location next to Pärnu beach suits for 5 people. Seafront promenade is only 200m walk away. Everything necessary for a great holiday is just a walking distance away : the beach, restaurants, SPA, kurhaus, Vallikääru, summer events etc. On the ground floor theres kitchen, living room, veranda, sauna, shower room + toilet. On second floor you can find spacious bedroom with bathroom and toilet, also there is a large balcony with summer furniture for your enjoyment. Theres total of 2+3 beds: wide double bed in the bedroom, sofa in the living room and 2 (single and double-digit) air mattresses wich you can move wherever you like. Veranda is also suitable as a cozy bedroom in summertime. This cottage is located in the courtyard, away from the street and is surrounded by a fence. Theres also a seating area and a BBQ. 2 bicycles. Parking lot.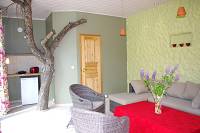 A small courtyard cottage with a summer room for up to 4 people in the center of Pärnu in a quiet residential area. All services and everything necessary for a great holiday is just a walking distance away. Beach - 15 minutes walk. The cottage has a bright living room, sleeping area, shower room with WC There is also a small cooking area, where you can find a coffee maker, toaster, a small electric stove, fridge and eating utensils. There are 4 sleeping places: a thick mattress bed, a bunk bed for one, sofa bed for children. The terrace has garden furniture. Outdoor BBQ. The plot is fenced. The yard of the cottage side of the courtyard is for guests to use. Free parking is on the street in the front of the house.
House for 5 persons near the Pärnu beach area. All necessary for a holiday is within a walking distance. Beach and Water Park is 15 minutes by foot, market 700m, city center 1km. Shops, shopping malls, boutiques, venues are 15-25 minutes walk away. The cottage has been completely renovated inside, caught as much as possible to preserve the original. Interior is retro, urban and modern comforts have been added. There are 2 + 3 beds in the house: bedroom with double bed (130 cm), living room with a sofa bed, sofa and a single bed. The cottage also has a small closed 300 m2 courtyard and barbecue. Free parking in front of the house. In exceptional circumstances (in the absence of a parking space on the street), it´s possible to park the car in a closed courtyard.